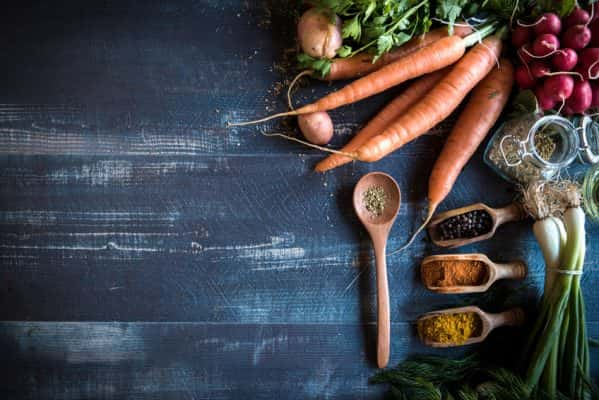 Cooking concept with vegetables and copy space in the middle on wooden background
MUSHROOM PATE
Makes enough to fill a 3-cup mold or dish
The simplicity of this recipe belies its great taste.  Traditionally served in a small glass jar with a bail lid.   Serve with crisp little croutes, toasts or crackers of your choice and, as the French do, with some little cornichons and grainy mustard on the side.
1-ounce dried wild mushrooms such as porcini
5 tablespoons butter
1/2 cup chopped shallots or green onions (white part only)
1-1/4 pounds thickly sliced fresh wild or exotic cultivated mushrooms*
2 teaspoons finely chopped garlic
2 teaspoons curry powder or to your taste
1/2 teaspoon ground cumin
1 cup toasted, preferably unsalted cashews
2 tablespoons toasted nut oil such as walnut or olive oil
2 tablespoons finely chopped mixed herbs such as parsley, chives and/or basil
2 teaspoons finely grated lemon zest
Kosher or sea salt and freshly ground pepper to taste
Rinse the dried mushrooms quickly and let soak in warm water to cover for 15 minutes.  Drain, squeeze dry and chop.
Heat the butter in a large sauté pan over moderately high heat.  Add the shallots, all mushrooms, garlic, curry and cumin and sauté and stir until mixture is just beginning to brown and all liquid has evaporated.
While mushrooms are cooking add the cashews to a food processor and process till finely chopped.  Add oil and continue to process to make a paste or butter.  Add the mushroom mixture and process till almost smooth.  Stir in the herbs and zest and season with salt and pepper to your taste and place in a 3-cup pate mold or other ceramic dish.  Can be stored covered and refrigerated for up to 3 days.  Allow to return to room temperature to serve.
MUSHROOM SOUP WITH CRÈME FRAÎCHE **
Serves 4
1-ounce dried porcini mushrooms
1 tablespoon each extra-virgin olive oil and butter
1 tablespoon minced shallot
Kosher salt and freshly ground black pepper
10 ounces cremini mushrooms, trimmed and coarsely chopped (about 5 cups)
2 teaspoons chopped fresh thyme
1/4 cup dry sherry
3 cups or so low salt chicken or vegetable stock
1 ounce finely grated Parmigiano-Reggiano (1 cup using a microplane grater)
1/4 cup crème fraîche, sour cream, or plain Greek yogurt
1 teaspoon smoked paprika, or to taste
In a small bowl cover the dried mushrooms with hot water land soak until soft, about 10 minutes.  Strain saving the soaking water, chop and set aside.
Heat the oil and butter in a 4-quart saucepan over medium heat. Add the shallot and a sprinkling of salt and pepper and cook, stirring, until beginning to brown at the edges, about 3 minutes.
Add the cremini and porcini mushrooms and cook until lightly browned and any moisture has evaporated, about 5 minutes.  Add the thyme and lightly season with salt and pepper. Add the sherry and cook, stirring, until reduced by half, about 2 minutes.
Add the stock and reserved mushroom soaking water and bring to a boil. Reduce the heat and simmer for 6 – 8 minutes. Stir in Parmigiano and remove from heat and let cool slightly.
Working in batches, purée the soup in a blender until smooth or alternately use an immersion blender to puree. Return to the saucepan and reheat if necessary.  Season to your taste with salt and pepper.
In a small bowl, mix the crème fraîche and smoked paprika together. Serve the soup topped with a swirl of the crème fraîche.
CANDY CAP CUSTARD SAUCE FOR DESSERTS
Makes about 2-1/2 cups
Candy cap mushrooms, which are also known as maple caps, have an incredible sweet, maple/butterscotch aroma and flavor.  They only grow wild and are even more potent when they are dried.  Generally, they are only available from mushroom hunter friends (which is where I get mine) but occasionally you can find them online.  Serve this with your favorite cake or tart. This sauce is also the basis for a wonderful ice cream.
1/4 cup dried candy cap mushrooms
2 cups light cream (half and half)
4 egg yolks, lightly beaten
1/2 cup sugar (or to taste)
Drops of fresh lemon juice
Rinse dried candy caps and place in a small saucepan with the cream.  Heat slowly and bring just to the simmer.  Off heat and let sit for at least 15 minutes.
Meantime in a separate bowl beat the eggs and sugar together until light and smooth.  Slowly whisk in cream and return mixture to the saucepan.  Over moderate heat, stirring constantly, cook sauce until it just thickens.  Be careful not to overcook or eggs will scramble.  Immediately remove from heat and strain into a cool bowl.  Alternately you can leave mixture unstrained, add a tablespoon or two of cold cream to cool down sauce.  Add drops of lemon juice to taste.  Store covered in refrigerator up to 3 days.
John Ash © 2019