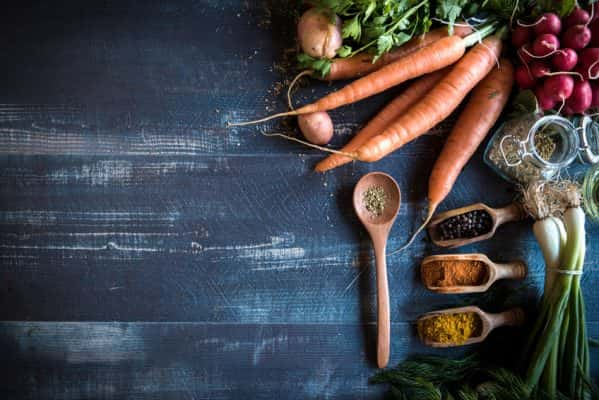 Cooking concept with vegetables and copy space in the middle on wooden background
Tri-Tip of Beef with Sweet Corn and Arugula
4 servings
1 lb 8 oz Tri-Tip Beef, cleaned
1 TBS cooking oil (corn, olive, or grapeseed)
6 Ears Fresh Sweet Corn, creamed
1 bunch chives, sliced thin
2 TBS Butter
1 TBS Salt
1 tsps Black Pepper
2 Cloves Garlic, peeled
8 oz Arugula, cleaned
1/2 lemon, juiced
1 tsps Olive Oil
Season meat with 1/2 of salt and pepper. Rub meat with oil. Place on grill (grill should be very hot.) Cook for three minutes on each side until a nice crust forms. Move meat to a slightly less warm place on grill and allow to cook for ten more minutes. Pull off of grill and rest on meat rack (fifteen minutes). Rub peeled garlic on outside of meat while resting.
In a small pan, heat creamed corn on low heat for two minutes. Add all of the butter and chives. Add 1/2 tsps salt. Keep warm. (If it separates, add 1 TBS of water.)
In a mixing bowl, mix arugula, lemon juice and olive oil. Season with salt and pepper.
Place a spoon of creamed corn on plate. Add a few slices of tri-tip and top with arugula salad.
Recipe courtesy of Chef Douglas Keane