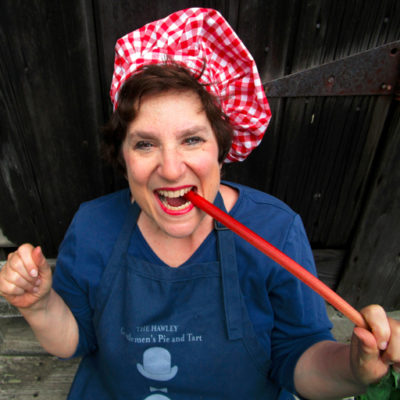 Recipes courtesy of Tinky Weisblat
Rhubarb Tea
Ingredients:
for the rhubarb juice:
2 pounds rhubarb stalks chopped (about 6 cups)
3 cups water
1 pinch salt
for the sugar syrup:
2 cups water
3/4 cup sugar
for assembly:
1 quart strong black tea
Cooking Directions:
In a stainless steel or enamel saucepan, cook the rhubarb in water, partially covered, over moderately low heat for 10 to 12 minutes or until tender. Stir gently occasionally to keep from boiling. Cool slightly. Drain the rhubarb in a sieve placed over a bowl and discard the pulp, reserving the liquid. Add the salt.
In another saucepan, combine the ingredients for the sugar syrup. Bring the mixture to a boil, stirring and brushing the sugar crystals from the sides of the pan until the sugar is dissolved. Cook the syrup for 5 minutes, undisturbed, over moderate heat and let it cool.
To make rhubarb tea, combine 2 parts black tea, 1 part rhubarb juice, and 1 part sugar syrup. (You may change these proportions slightly according to your taste.) Serve in a tall glass over ice. As indicated, 4 cups tea, 2 cups rhubarb juice, and 2 cups sugar syrup make 2 quarts of rhubarb tea.
Store any leftover juice or syrup in the refrigerator. If you need a double amount of sugar syrup, make 2 separate batches.
Rhubarb-Bacon Compost (well, really compote)
Ingredients:
4 slices bacon
2 cups sweet onion slices
2 cups finely chopped rhubarb
3 tablespoons cider vinegar
3 tablespoons maple syrup
1/2 teaspoon fresh thyme
1 teaspoon (maybe a little more!) fresh chives
Instructions:
Fry the bacon in small pieces. Add the onion, and cook over low heat, stirring occasionally, until the onion starts to caramelize (15 minutes or more), stirring frequently. Add the rhubarb, the vinegar, and the maple syrup. Continue to cook, stirring occasionally, until the rhubarb softens and most of the liquid evaporates. The timing on this stage will vary depending on the toughness of your rhubarb, but aiming for 10 to 15 minutes will work.
Remove from heat and cool to room temperature. Stir in the herbs, and refrigerate until ready to use. Serve with cheese and crackers. Makes about 1-1/2 cups.