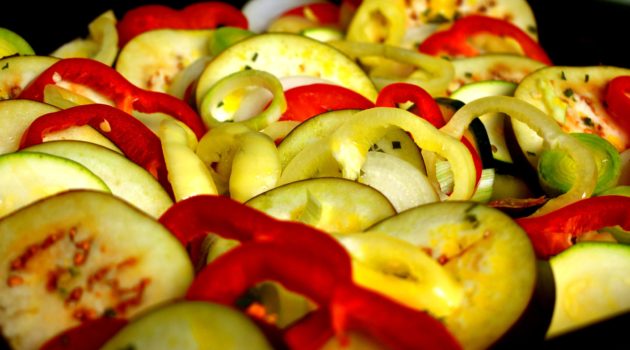 Chef Brian Anderson, owner of the now closed Bistro 29 restaurant, shares his Bastille Day recipes with Good Food Hour! Vive la France!
Buckwheat Crêpe Batter
500 grams buckwheat flour (4 cups)
1 tablespoon honey
30 grams grey French sea salt
2 eggs
Water as needed
Method:
In a very large high sided bowl mix the salt, eggs and honey. Add a small amount of buckwheat. Using clean hands mix in the buckwheat, add more flour until a thick mixture is made. Add water and mix until it is thinned out, the consistency of thin pancake batter. Alternate the flour and water mixing well each time until all the flour in mixed in. The batter should be very thick, almost a paste. At this point begin to slap the mixture with the palm of your hand. Do this for about 5 minutes or until you see the mixture lighten in color about become more elastic. At this time transfer to a deep pot or container and cover with about 1 inch of water. Let rest for 4 hours or up to a day. When mix ready to use, mix in the water and adjust with more water if needed to make the batter the consistency of thick cream.
Ratatouille
1 pound zucchini – halved and sliced in ½ inch pieces
1 pound yellow squash – halved and sliced in ½ inch pieces
1 ea globe eggplant – diced into ¾ inch cubes
1 ea white onion – diced into ½ inch pieces
2 tablespoons chopped garlic
2 ea red bell pepper – seeded and julienned
4 tomatoes – seeded and rough chopped
1 tablespoon herbs de Provence
Salt and pepper to taste
Olive oil for sautéing
Method:
Heat a large sauté pan on high heat with enough olive oil to coat the bottom of the pan. Starting with the eggplant sauté until translucent but not mushy. Season with salt and pepper. Place eggplant in a large baking dish. Continue next by sautéing the zucchini in olive oil and season with salt and pepper and remove to dish with eggplant. Next the squash and add this to the eggplant/zucchini mixture in the pan. Lastly sauté the onion, garlic and bell pepper in the pan. Cook until the peppers are soft, add the tomatoes, herbs and adjust seasoning. Add this to the eggplant pan and mix all vegetables together. Bake in a 350 degree oven for 15 minutes remove from the oven mix to combine flavors and season with salt and pepper if needed.
Mushrooms Forestiere
2 pounds white mushrooms thinly sliced
½ cup sliced shallots
½ bunch Italian parsley chopped
1 tablespoon chopped thyme
1 cup dry white wine
1 cup cream
Salt and pepper to taste
Canola Oil
Method:
Heat a large sauté pan on high heat and coat the bottom of the pan with canola oil. Place in a single layer of mushrooms in the hot pan and do not move until browned and some moisture has evaporated. Sauté the mushrooms and season with salt and pepper. Remove the mushrooms to another container while you continue sautéing the rest of the mushrooms. Once all the mushrooms are cooked sauté the shallots in a little more oil making sure not to brown but just cook until translucent. Add the mushrooms back to the hot pan with the shallots and add the thyme. Add in the white wine and reduce the liquid by half. Add the cream and adjust seasoning. Reduce again until the sauce is thick and coats the back of a spoon.
Keep warm until ready to use.