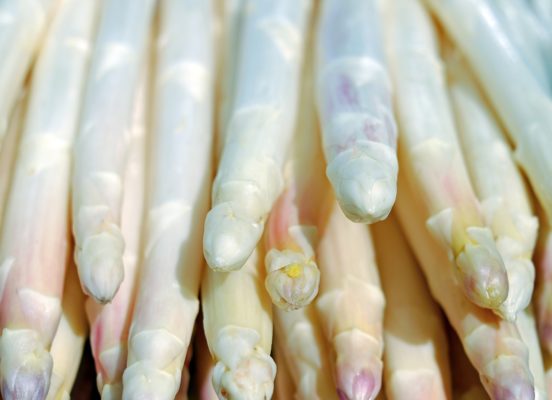 Friend of Good Food Hour, Condra Easley, former owner of Patisserie Angelica, is now living in France and shares this delicious recipe.
Creamy White Asparagus Soup
Serves 6
Ingredients
1 medium yellow onion chopped
2 cloves of garlic chopped
4 oz. unsalted butter
6 cups high quality chicken or vegetable stock
2 lbs. white asparagus (ends cut off, stalks peeled, reserve tips, then cut stalks into 2" pieces)
½ cup – 1 cup half-and-half to desired consistency
Salt and pepper to taste
Crème fraîche for center dollop
Fresh thyme garnish
Directions
● In a stockpot, sauté onion and garlic in the butter until transparent.
● Add chopped asparagus and pour in the stock.
● Boil for approximately 30 minutes or until tender.
● Purée the soup in batches in a blender or using a stick blender.
● Return soup to the stock pot, add the asparagus tips and simmer about 5 minutes or until tender.
● Reduce heat and add half-and-half, do not boil.
● Garnish with a dollop of crème fraiche and fresh thyme.
Courtesy of Condra Easley
Instagram: condraeasley