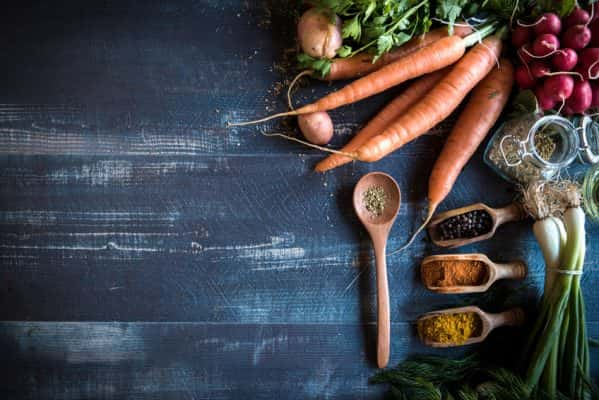 Cooking concept with vegetables and copy space in the middle on wooden background
GREEN PAPAYA SALAD (SOM TUM)
"Som" translates to sour and "Tum" refers to the pounding sound from crushing the ingredients in a mortar and pestle. This salad is eaten by itself and served with grilled meats and fishes.
Green papayas are the unripe version of the familiar orange fleshed papaya which is a sweet fruit. Green papayas are more like a vegetable version, made into a kind of "vegetable coleslaw". Available in Asian markets you could substitute unripe green mangoes or chayote or cucumbers or even coleslaw mixes. If you have a mandolin, preparing the peeled papaya is a snap. If you don't have one, there are inexpensive peeler-slicers available which work just fine with the julienne step.
4 cups finely julienned firm green papaya (1 medium)
1 tablespoon finely chopped garlic
2 small fresh hot chiles, stemmed and seeded (or to taste)
1/2 teaspoon salt
3 tablespoons fresh lime juice
2 tablespoons Asian Fish Sauce
2 teaspoons sugar (or to taste)
10 cherry or grape tomatoes, halved
1 cup finely julienned peeled carrot
1/3 cup roasted unsalted peanuts, finely chopped
Garnish: Fresh cilantro leaves
Soak the papaya in cold water for 10 minutes or so. Drain and gently squeeze out the excess water. Refrigerate in a colander until dry. With a mortar and pestle or a mini food processor pound or process the garlic, chiles and salt to a smooth paste. Whisk in the lime juice, fish sauce and sugar. Toss the papaya and carrot in the mixture until well coated. Sometimes they are also pounded gently to release flavor. Stir in the tomatoes and top with the peanuts. Garnish with the cilantro and serve.
Recipe courtesy of Chef John Ash