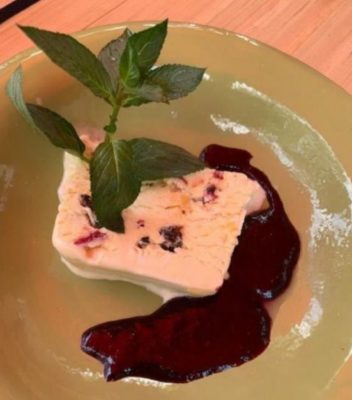 GINGER, FIG AND CRANBERRY SEMIFREDDO WITH BLACKBERRY SAUCE
Yields one 8 cup terrine serving 8 – 10
This is a simple but lovely dessert which could be made in the terrine as suggested here or in individual serving size molds as you desire. "Semifreddo" is Italian and translates to "half-frozen", which is what this dessert is — somewhere between ice cream and a pudding. If you are concerned about using raw egg yolks, you could whisk the yolks and sugar with one half cup or so of dry white wine in a double boiler over simmering water until light, fluffy and cooked before folding in the whipped cream. It melts relatively quickly so plate just before you plan to serve it, preferably on plates that you've put in the freezer for at least 15 minutes.
2-3/4 cups heavy whipping cream
8 egg yolks
2/3 cup sugar
1/4 cup minced candied ginger
1/4 cup finely chopped dried figs
1/3 cup dried chopped cranberries, finely chopped
2 tablespoons grated orange zest
Blackberry Sauce (recipe follows)
Mint sprigs.
With an electric mixer beat cream until stiff peaks and set aside. In a separate bowl, beat egg yolks until light in color. Gradually beat in sugar and continue beating for 3 – 4 minutes until light and fluffy. Gently fold the egg and cream mixture together along with rest of ingredients through the zest. Line a 7 -8 cup terrine with plastic wrap and fill with mixture. Cover top with plastic and freeze for 6 hours or overnight.
To serve: Unmold, cut into slices, and surround with fresh blackberry sauce and mint sprigs.
Blackberry Sauce
5 cups fresh or IQF blackberries
3/4 cup sugar (or to taste)
1 tablespoon fresh lemon juice
2 tablespoons blackberry brandy (optional)
Add all ingredients to a blender or food processor and puree. Push through a fine strainer to remove all seeds. Store refrigerated up to 5 days.
John Ash © 2020