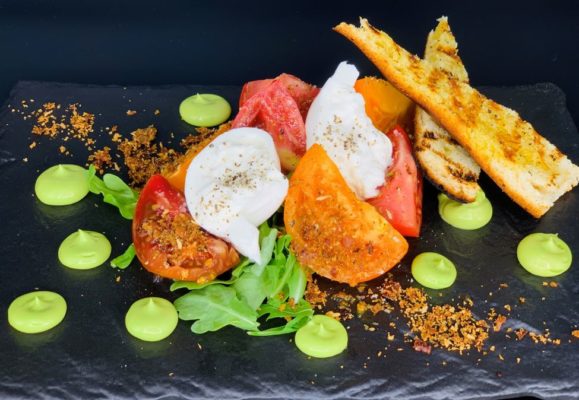 Heirloom Tomato & Burrata Salad
Heirloom Tomatoes – Basil Emulsion – Bacon Powder
Recipe Courtesy of Chef Dustin Valette of Valette in Healdsburg, CA
Yield: 4 People
*I love as the seasons change we get new vegetables and fruits from our garden, though when summer is upon us the most glorious event happens… heirloom tomatoes! This recipe is super simple (with some chef tricks) and one of my favorites to pair with our Rosé of Pinot! The Bacon Powder adds great texture to the tomatoes and who doesn't love another version of bacon! Plus, sitting on the porch sipping Rosé eating Heirloom Tomatoes and Burrata, kinda magical.
~Dustin
4-5 ea Ripe Heirloom Tomatoes
4, 4oz balls Burrata Cheese cut half
1⁄2 loaf Sourdough Baguette
4 cups Baby Arugula, washed
2 bunches Fresh Basil
1 each Egg, yolk separated
3 ounces Canola Oil
6 ounces Bacon, thick cut
2 ounces Panko Breadcrumbs
Extra Virgin Olive Oil
-Basil Emulsion-
-Ok, this is the best stuff on earth and is so good with, um, Everything! There are a couple steps involved, though worth it! First pick the basil leaves and discard the stems. In a pot of salted boiling water blanch the basil leaves for about 10 seconds then drain and shock in ice water immediately. In a blender, add the basil, egg yolk, a pinch of salt, pepper and 1 ounce of water. Blend the basil until smooth, reduce the setting and slowly add the canola oil. Use a little more if needed until the emulsion is thick like mayonnaise. Adjust seasoning and reserve cold. Please note, this is only good while refrigerated for 1 day. *Chef Trick: Now as a chef I would never take a shortcut, though if you combine a fresh pesto with mayonnaise it works in a pinch.
-Bacon Powder-
-Begin by cooking the sliced bacon as you normally would, though ensure its cooked crisp. Drain off 75% of the bacon fat and add the Panko. Stir often to 'toast' the breadcrumbs, add to a small mixing bowl. Now take the cooked bacon and chop it up very small, combine it with the toasted breadcrumbs and adjust seasoning.
-Grilled Baguette-
-Slice the baguette into 8 long croutons, drizzle with extra virgin olive oil, salt and pepper; lightly grill until golden brown on a griddle or BBQ. You can also toast in an oven, though I love the flavor of grilled bread.
-Plating-
-Remove the core of the tomatoes and slice into wedges. Place the tomatoes into a small bowl, drizzle with some EVO and season with salt and pepper.
-In the center of the plate place the wild arugula down first, then arrange the tomatoes on top and place the grilled bread to one side.
-Finish with the Burrata, drizzled extra virgin olive oil, a line of the Bacon Powder and a little sea salt. Make a couple elegant dollops (in the picture I used a squeeze bottle) of the basil emulsion. Repeat with the remaining dishes.
Enjoy! Dustin Valette