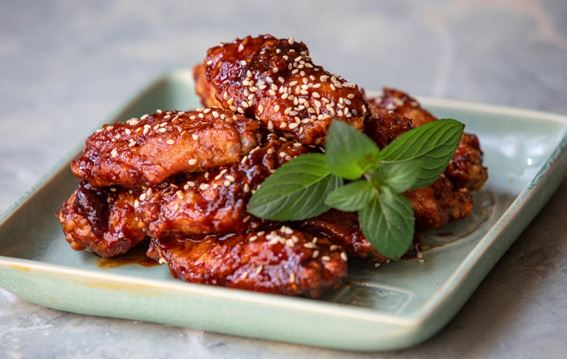 KOREAN FRIED CHICKEN WINGS
Serves 4 depending on your appetite
Gojujang chile paste is one of the indispensable condiments in the Korean kitchen.  It is made by combining powdered red chili peppers, glutinous rice powder and soybean paste.  It's widely available in Asian markets and on-line.
Canola or other vegetable oil for frying
2 tablespoons pressed fresh garlic
1-1⁄2″ piece peeled ginger, finely minced
3 tablespoons soy sauce
3 tablespoons gojujang
1 1⁄2 tablespoons rice vinegar
1 tablespoon toasted Asian sesame oil
2 tablespoons honey
1/3 cup each rice flour, all-purpose flour and corn starch
16 chicken wings, tips removed and saved for stock (about 1 3⁄4 lbs.)
Pour oil into a 6-qt. pot to a depth of 2″. Heat over medium-high heat until a thermometer reads 350˚. In a small saucepan add garlic, ginger, soy, gojujang, vinegar, sesame oil, and honey. Bring to a simmer over moderate heat and keep warm.Whisk flours and cornstarch together with 1 cup water in another bowl. Add chicken and toss. Working in batches, fry chicken until golden, 6–8 minutes. Drain on paper towels. Return oil to 350˚. Fry chicken a second time until crisp, 6–8 minutes more. Drain again. Toss chicken in sauce and serve hot.
Note:  Alternately you can forego the second frying and instead arrange once fried wings on a rack on a sheet pan and put in a preheated 425-degree oven for 5 – 7 minutes.
CHICKEN AND SHRIMP MEATBALL SOUP 
Serves 6
Southeast Asia flavors are at work here.  I discovered this during a trip to Thailand.
5 ounces dry mung bean or rice noodles, softened according to package directions
1/2 pound peeled and deveined shrimp
1/2-pound boneless, skinless chicken thighs, chopped
2 teaspoons finely chopped garlic
3 tablespoons finely chopped green onions including the green tops
2 tablespoons fish sauce
1/2 teaspoon freshly ground black pepper
1 teaspoon sugar
8 cups rich chicken stock of your choice
2 tablespoons soy sauce
1 tablespoon brown sugar
2 teaspoons chili garlic sauce, or to taste
1 2-inch piece fresh ginger, peeled and cut in fine julienne
1/4 cup fresh lime juice
1/4 cup roughly chopped fresh cilantro
Fried garlic or shallots, if desired
Prepare noodles according to package directions. Drain and set aside.
In a food processor with the metal blade and pulse the shrimp and chicken separately until coarsely chopped. Place both into a large bowl and stir in garlic, green onions, fish sauce, black pepper, and sugar. Using a tablespoon to measure, gently roll each spoonful into a ball and set aside.
Add stock, soy sauce, brown sugar, chili garlic sauce and ginger to a soup pot and bring to a boil. Drop in the meatballs and cook until meatballs are done, about 8 minutes.  Keep the soup at a gentle simmer so that it doesn't cloud.  Adjust seasoning to your taste. Divide the noodles and lime juice among soup bowls, add the meat balls and ladle the broth over the soup and top with chopped cilantro and fried garlic or shallots.
CHICKEN PICCATA
Serves 4
This is a classic American-Italian recipe that is easy and quick.  Since it's done in one pan it makes cleanup a breeze.  Great adapted to other meats like pork or turkey.
2 boneless, skinless chicken breast halves, each 10 to 12 ounces each
Kosher salt and freshly ground pepper
1/2 cup all-purpose flour
3 tablespoons olive oil
3 tablespoons unsalted butter
2 tablespoons finely chopped shallot
1/4 cup dry white wine
3 tablespoons fresh lemon juice or to taste
1/3 cup chicken broth
2 tablespoon drained capers
2 tablespoons minced fresh parsley
1 tablespoon finely chopped chives
Butterfly the chicken breasts and cut them in half horizontally. Working with one breast half at a time, place the chicken between 2 pieces of plastic wrap and, using a meat pounder or other heavy, flat object like a skillet, gently pound to an even thickness of about 1/4 inch thick.
Season the chicken on both sides with salt and pepper. Place the flour in a shallow bowl and dredge the chicken in it. Shake off the excess.
In the nonstick fry pan over medium-high heat, warm 2 tablespoons of the olive oil. Place 2 pieces of chicken in the pan and cook, turning once, until browned on both sides, 2 to 3 minutes per side. Transfer to a platter or individual plates. Warm the remaining 1 tablespoon oil in the pan and repeat with the remaining chicken.
Reduce the heat to medium and add 1 tablespoon butter in the pan. Add the shallot and cook until softened and lightly brown, about 1 minute. Add the wine, lemon juice and broth, increase the heat to medium-high and cook until the liquid is slightly reduced, about 5 minutes.
Remove the pan from the heat and whisk in the remaining 2 tablespoons butter, the capers and parsley. Season to your taste with salt and pepper and additional drops of lemon juice if desired. Splash the sauce over the chicken and serve immediately topped with a sprinkling of chives.
John Ash © 2020