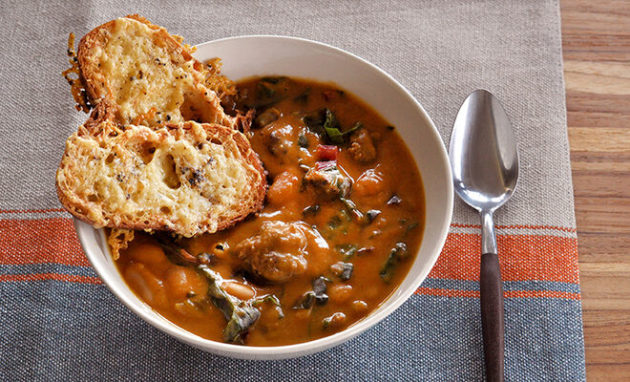 Merguez Sausage with Harissa Sauce
Ingredients
1 package Lamb Merguez Sausage
½ cup labne or Greek yogurt
2 teaspoons harissa
1 teaspoon fresh lemon juice
1 teaspoon honey
Kosher salt & freshly ground black pepper
½ teaspoon chopped flat-leaf parsley, optional
For Serving: Diced pickled turnips, pita bread or baguette
Preparation
Heat a grill or cast-iron skillet over high heat. Cook the merguez until they are charred and crispy, rotating frequently. Remove the merguez from the heat and rest. Meanwhile make the sauce: stir the yogurt with half of the harissa then add the lemon juice and honey and season with salt and black pepper. Adjust the seasoning as necessary with the remaining harissa, or any additional lemon juice and honey, to reach desired spiciness. The sauce should have some bite. Stir in the chopped parsley. Slice the pitas in half and slather the inside with the harissa-yogurt mixture. Place one lamb merguez sausage in each pita half. Alternatively, slice the baguette in half like a hot dog bun for holding the sausage. Sprinkle with pickled turnip slices and serve. Serves 5.
White Bean & Duck Sausage Soup with Gruyere Toasts
Ingredients
2 cups French Coco Tarbais Beans
2 tablespoons olive oil
2 packs Duck & Armagnac Sausage, removed from their casings
1 shallot, chopped
2-inch section of leek, white and light green parts only, sliced
3 medium carrots, chopped
1 rib of celery, chopped
8 cloves garlic, smashed
1 tablespoon tomato paste
6 cups chicken stock + more as needed
2 bay leaves
6 sprigs fresh thyme
Salt & freshly ground pepper
1 teaspoon Piment d'Espelette
1 bunch Swiss chard, finely chopped
1 baguette, sliced
4 ounces Gruyere cheese, grated
Preparation
The night before you want to cook, rinse beans under cool running water then place in a large non-reactive container and cover with 2 inches of cool water. Let beans soak at room temperature overnight.
Heat about 2 tablespoons of olive oil in a large pot or Dutch oven over medium-high heat. Thoroughly brown sausage, breaking the meat up into chunks as it cooks. Remove sausage with a slotted spoon and place in a bowl lined with paper towel. Set aside. Leave fat in the pot and lower the heat to medium.
To the pot add shallot, leeks, carrots, celery, and garlic. Turn to coat in the fat. Season with salt and pepper. Sauté vegetables until shallots are translucent and carrots start to soften slightly, about 7 minutes. Stir in tomato paste; continue to cook about 3 minutes more. Add chicken stock, stirring up any browned bits at the bottom of the pan. Add bay leaves and thyme. Turn heat up to medium-high and bring mixture to just a boil, then turn down the heat to medium-low; simmer for 30 minutes.
Drain beans, rinse, then and add to the pot. Continue to cook for 2½ hours, or until beans are cooked through.
Remove thyme stems and bay leaves. Remove half of the soup to a blender, and puree on high until smooth. Return pureed soup to the pot. Stir in sausage, Swiss chard, and piment d'Espelette. Optional – thin the soup with additional chicken stock, if needed, depending on your taste. Continue to cook over medium heat for 20 minutes. Taste for seasoning and add salt & pepper, if desired.
Meanwhile, preheat oven to 425 degrees F. Place baguette slices on a sheet pan and sprinkle with Gruyere cheese; season with pepper. Bake until cheese is bubbly and has browned slightly, about 10-12 minutes. Cool.
Serve warm soup with gruyere toasts. Serves 6.
Recipes courtesy of Ariane Daguin of D'Artagnan Meats.