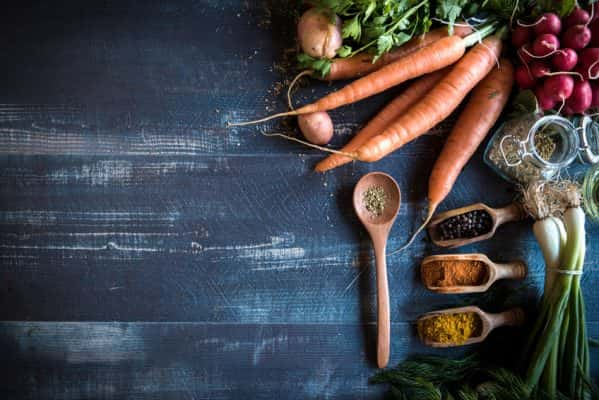 Cooking concept with vegetables and copy space in the middle on wooden background
Serve 8
Classically red wine is used to poach fruits but here I've used strong coffee which has many of the same qualities of red wine: Acidity, tannin and rich flavor.  The pears can be done up to 5 days ahead.  Store them refrigerated in some of the poaching liquid for a day or two to absorb flavor and color.  If the pears are to be stored longer than that then remove them from the liquid.  Poaching liquid can be reused.
Serves 8
8 small firm-ripe pears, peeled and cored
Poaching liquid:
6 cups strong coffee
2-1/2 cups dark brown sugar
zest and juice of 2 large oranges
3 tablespoons coarsely chopped ginger
3 inch cinnamon stick
Sauce:
1 cup poaching liquid from above
1/2 teaspoon corn starch
1/4 cup fresh orange juice
Vanilla Bean Ice Cream (recipe follows)
3 large navel oranges, peeled and segmented
Cinnamon Twists (recipe follows)
Garnish:  Mint sprigs
Combine ingredients for poaching liquid and simmer for 4 minutes.  Add pears and continue to simmer gently until pears are cooked through and tender (check with a toothpick).  Remove from heat and allow pears to sit in poaching liquid while making sauce.
To make sauce:  Place 1 cup poaching liquid in a small saucepan.  Dissolve cornstarch in 1/4 cup orange juice and add to liquid.  Bring to a simmer and cook for 3 minutes until lightly thickened.  Set aside to cool.
To serve:  Fan pears and arrange in shallow soup plates.  Spoon sauce around and place a small scoop of ice cream, 3 orange segments and mint sprigs attractively around.  Place Cinnamon Twists on rim of plates and serve immediately.
Vanilla Bean Ice Cream
Makes 1 quart or so
You can substitute a couple of teaspoons of vanilla extract for the bean but the flavor is not as interesting to my mind.  If using extract, stir it in to the chilled custard base just before churning.  What we are making here is classic French Custard ice cream – – the best!
1-1/2 cups whole milk
1-1/2 cups heavy cream
3/4 cup sugar
1 vanilla bean, split lengthwise and seeds scrapped out
4 large egg yolks
Position a strainer over a medium bowl set in a larger bowl of ice water.  This is the "insurance policy" to help quickly cool down the custard mixture to prevent it from scrambling.
In a deep saucepan heat the milk, cream, 1/2 cup of the sugar and the vanilla bean and seeds over medium heat until the mixture is warm (185 degrees or so).  In a small bowl whisk the egg yolks with the remaining sugar until pale yellow.
Slowly whisk the warm milk mixture into the egg yolks until combined. This is called "tempering" which is bringing the egg yolks up to temperature slowly again to help prevent scrambling.
Return the mixture to the saucepan and over medium heat cook it, stirring constantly with a rubber spatula until the mixture begins to thicken and steam appears.  Temperature should read about 185 degrees on an instant read thermometer.  Be careful not to boil the mixture of the eggs will scramble.  Immediately strain the custard into the bowl set in the ice bath, stirring occasionally to help it cool down.  Cover and refrigerate until chilled.
Remove and discard the vanilla bean and churn according to manufacturer's instructions until firm.  Transfer to an airtight container, press plastic wrap flush against the surface, cover the container and freeze for up to 3 days.
Cinnamon Twists
Makes approximately 30 twists
1-1/2 cups all-purpose flour
1 cup (1/2 pound) unsalted butter, cut into 1/4 inch bits
1/2 cup sour cream
1/2 cup (2 ounces) very finely chopped sliced almonds
1/2 cup sugar
1-1/2 tablespoons ground cinnamon
In a food processor, add flour and butter and process in two or three short bursts until mixture resembles very coarse meal.  Add sour cream and process briefly again until dough just begins to come together.  Be careful not to overmix.  Form into a round cake, wrap in plastic and refrigerate for 4 hours or over night.
Mix almonds, sugar and cinnamon together.  Sprinkle liberally on a board and then quickly roll dough 1/8 inch thick in a rectangle approximately 9 x 12 inches.  Turn dough frequently  and continue  to sprinkle on sugar mixture so dough is well coated.  Trim the edges and then cut in even strips, 1/2 inch wide.
Gently pick up ends of strips and twist 2 or 3 times to form a corkscrew shape.  Place on an aluminum or parchment lined baking sheet and bake in a preheated 400 degree oven for approximately 15 minutes or until twists are brown and crisp.  If dough has softened at all, place baking sheet in freezer for a few minutes to firm it up before baking.  Cool and store airtight or frozen.  Best used the same day they are baked.
John Ash © 1996
Rev. 10/05